Advertisment
The right hates it.
The left hates it.
Washington despises compromise, even when the alternative is a globally devastating default by the federal government just days away. 
Compromise in our polarized culture has become a dirty word. And grandstanding by lawmakers in both parties, who have the luxury of knowing the bill would pass anyway, has become irresistible.
WHY THE MEDIA HAVE TURNED ON RON DESANTIS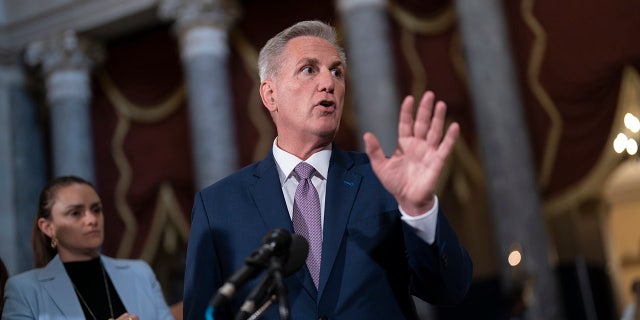 The House approved the bill to suspend the debt ceiling last night, with 165 Democrats bailing out 149 of McCarthy's Republicans to salvage the much-derided bipartisan measure. Democratic leaders had insisted that McCarthy produce 150 votes, or roughly two-thirds of his caucus; few expected that Biden's party would have to deliver more votes than the GOP.  
Next stop is the Senate, where delaying tactics and amendments cannot be ruled out as the June 5 drop-dead date approaches.
President Biden and Kevin McCarthy have been the grownups in the room, vowing from day one that there would be no default. They hammered out a deal that gave some political cover to both sides, enabling Biden to say he protected most of the programs he passed in the last two years and McCarthy to say he had won more significant spending cuts than in any previous debt-ceiling fight.
McCarthy's reward: an attempt to bottle up the bill by two hard-line conservatives he had put on the Rules Committee as one of his concessions to become House speaker. His bigger reward: Talk by hard-liners of ousting him from the job, which under another of those concessions he made during the 15-ballot struggle can be initiated by any single House member.
RON DESANTIS FINALLY TAKES ON DONALD TRUMP, IN CALL WITH JOURNALISTS
Rep. Andy Biggs called the measure "completely unacceptable. Trillions and trillions of dollars in debt for crumbs for a pittance." Chip Roy warned that "not one Republican should vote for this deal."
There are accounting gimmicks and fuzzy math that leave most of the budget untouched. But McCarthy is right that he won cutbacks in such areas as IRS funding and a two-year limit on spending in exchange for agreeing to pay past bills accumulated by borrowing that has left America with $31 trillion in debt.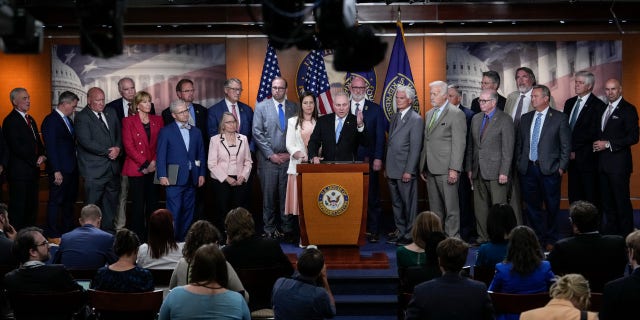 Progressive Democrats are also described by the Huffington Post as "seething." Elizabeth Warren said the bill "rewards the hostage-taking that the Republicans have gotten so damn good at." Pramila Jayapal said many in her caucus are "deeply, deeply concerned" about concession to the GOP setting "an extremely dangerous precedent."
But these Dems didn't hold a press conference to crap all over the bill. The reason: their president wants it passed, and they know the alternative is a financial catastrophe.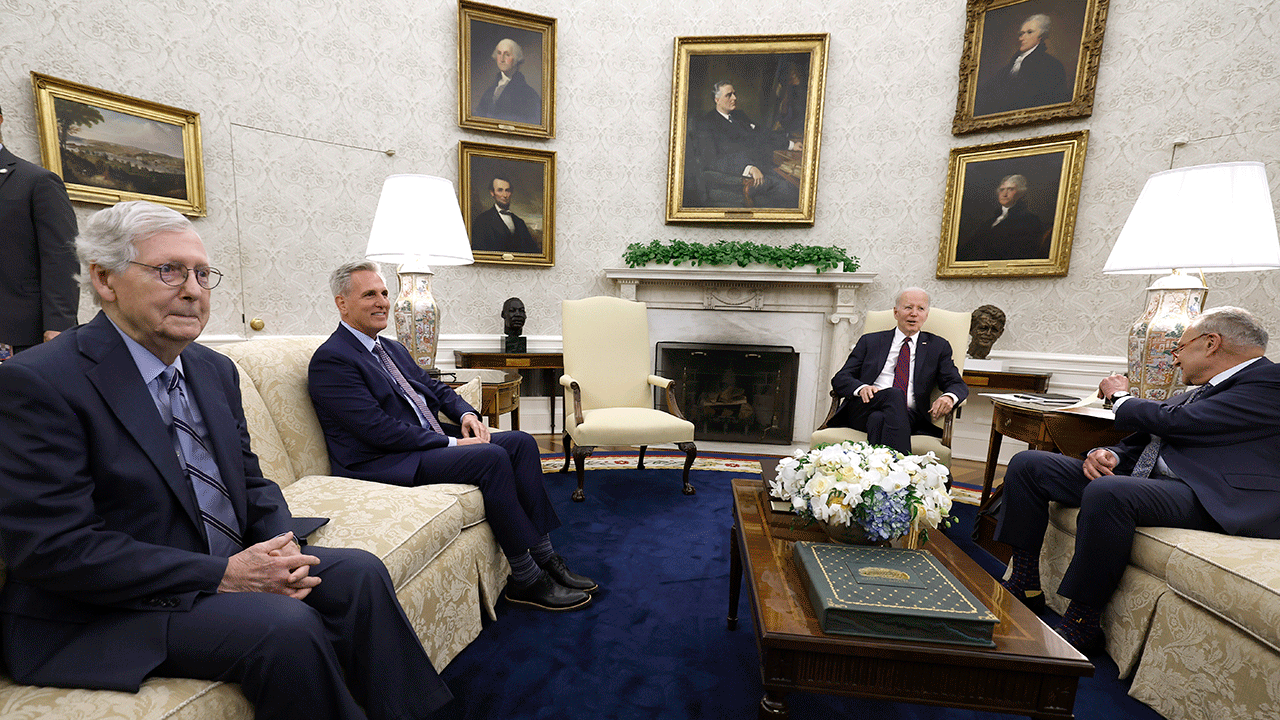 The debt ceiling is a monumentally dumb idea, and we're one of the few countries that has it. How is America not going to pay its past bills? It just gives the out-of-power party leverage to make all kinds of demands.
SUBSCRIBE TO HOWIE'S MEDIA BUZZMETER PODCAST, A RIFF ON THE DAY'S HOTTEST STORIES
These battles also reek of hypocrisy. Donald Trump raised the debt ceiling three times, while adding $8 trillion to the debt, and Republicans said nothing about spending cuts. Democrats have been on both sides of the issue as well.
CLICK HERE TO GET THE FOX NEWS APP
This was always a manufactured crisis that would be resolved at the last minute – the only way Congress does anything – by papering things over. And that's exactly how it played out.