Advertisment
Jessica Simpson revealed that she still owns her iconic Daisy Dukes from "Dukes of Hazzard."
The 42-year-old actress and singer told People Magazine that her closet boasts a collection of the cheeky denim shorts that she wore when she starred as Daisy Duke in the 2005 action comedy.
"I actually wore many pairs of the same shorts!" the Texas native said.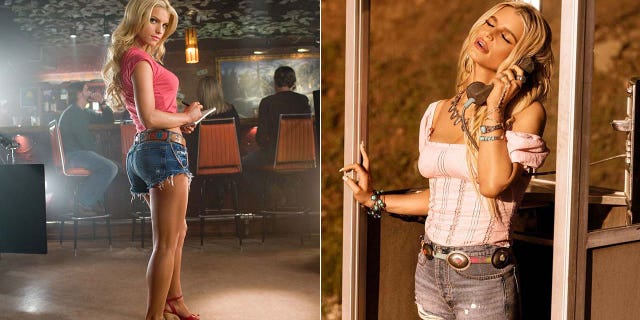 The "Newlyweds" alum made her acting debut in the movie, which was based on the early 1980s television series of the same name. Catherine Bach originated the role of Daisy Duke and denim cut-offs were such a staple of her wardrobe that the style came to be named after her character.
JESSICA SIMPSON STUNS FANS WITH SWEET FAMILY PHOTO IN HONOR OF MOM'S BIRTHDAY: 'FOUNTAIN OF YOUTH'
Simpson admitted to owning a "ridiculous number" of the hot pants and jokingly described herself as a "connoisseur" of the look. She told the outlet, "I'm always on my way to get somewhere in my denim shorts and platforms!" 
However, "I Want To Love You Forever" hitmaker joked that her fashion archive pales in comparison to that of music icon Diana Ross, who is the mother-in-law of Simpson's sister Ashlee Simpson-Ross.
"It makes me laugh because I imagine her archive is filled with sequins that make you salivate and mine is filled with Juicy suits and Daisy Dukes!" Simpson quipped.
The fashion mogul founded her eponymous apparel brand the Jessica Simpson Collection in 2005. She recently slipped back into her trademark pants for her new Spring/Summer collection's ad campaign. The designer shared two images from the campaign on her Instagram page Thursday.
Simpson was seen in a pair of distressed Daisy Dukes which she teamed with her collection's white puffed-sleeve Aubrey top and iridescent pink platform Camisha heels. In the desert-set photos, she posed in a phone booth while holding the receiver to her ear.
CLICK HERE TO SIGN UP FOR THE ENTERTAINMENT NEWSLETTER 
"If you were stranded in the middle of nowhere and had one phone call, who would you call? This @jessicasimpsonstyle Spring/Summer Campaign is filled with cinematic romance to inspire what's possible," Simpson wrote in the caption.
In her interview with People, Simpson joked that while her oldest daughter Maxwell has a habit of stealing some of her "favorite pieces," the 10-year-old has already outgrown her mother's shoe size. The mother of three shares Maxwell, daughter Birdie, 4 and son Ace, 9, with her husband Eric Johnson.
"Fingers crossed Birdie gets to devour the collection I have saved instead!" Simpson said.
CLICK HERE TO GET THE FOX NEWS APP
The "Employee of the Month" star told the outlet that she has grown more secure and confident with age.
"The older I get, I lean into the free-spirited version of myself: connecting my personality with my eccentricities! I never let people's judgments get the best of me. My confidence is showing up as I am."