Advertisment
NEWYou can now listen to Fox News articles!
Former Secretary of State Madeleine Albright died Wednesday, according to an announcement from her family.
"We are heartbroken to announce that Dr. Madeleine K. Albright, the 64th U.S. Secretary of State and the first woman to hold that position, passed away earlier today. The cause was cancer. She was surrounded by family and friends. We have lost a loving mother, grandmother, sister, aunt, and friend," her family said in a statement.
Born Marie Jana Korbelova, Albright immigrated to the United States from Czechoslovakia with her family in 1948. She earned her PhD from Columbia University in 1975, and worked for former Sen. Edmund Muskie and Zbigniew Brzezinski on the National Security Council.
She later served in the administration of former President Bill Clinton, first as U.S. ambassador to the United Nations and then as secretary of state.
In 2012, she was given the Presidential Medal of Freedom from former President Barack Obama.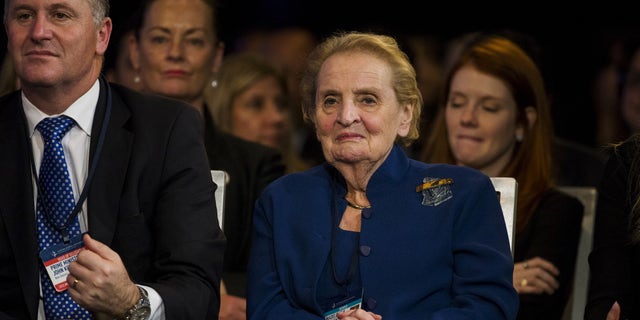 "At the time of her death a professor at Georgetown University's School of Foreign Service, chair of Albright Stonebridge Group, part of Dentons Global Advisors, chair of Albright Capital Management, president of the Harry S. Truman Scholarship Foundation, chair of the National Democratic Institute, chair of the U.S. Defense Policy Board, and an author," her family further explained.
"She founded the Albright Institute for Global Affairs at Wellesley College, served as a lifetime trustee of The Aspen Institute, and was a member of the chapter of the Washington National Cathedral."
 This story is breaking and will be updated.